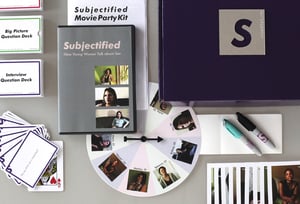 $

63.00
The gift that keeps on giving! Subjectified Movie Party Toolkits let you watch the doc and start a fun and compelling conversation that lasts long after the movie is over. Order for yourself and your friends, or give as a gift to your favorite young person or educator! Please contact us for rush availability.

Note: This license is for home use of the movie party kit. Individual educators may be eligible for free or discounted materials. Contact us through subjectified.com for institutional, educational, or public exhibition licenses of the Movie Party Kit. We will follow up before shipment of any home use licenses sent to institutional or business addresses. Contact us if you are unclear which license applies to you.
SHIPPING: Costs below are for USPS Priority Mail (domestic) For international shipping and other options, contact us before ordering.
Learn more about the kits at the subjectified website.
www.subjectified.com
Photo courtesy of Morea Steinhauer Photography